L2s-guard Protection release
25.04.2016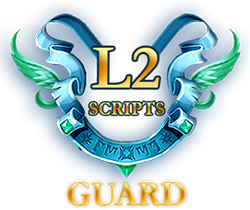 Lineage 2 Server Protection

The official L2s-Guard protection website: L2s-Guard Protection
Module

Price

Main L2s-Guard module:

Bot protection, Packet hack protection, Traffic encryption, Clickers protection

200

USD/year


Additional services

Price

Updates and tech support

Free!
Chronicle change
50

USD

Login server address change

50

USD

Protection file recovery

25

USD

Transfer protection files to person

50

USD

Protection domain bind

50

USD
L2s-Guard - is a unique and the only in its kind client-server anti-cheat, anti-bot and anti-clicker module for Lineage 2 servers for all chronicles and generations. One of the most basic yet important part of this module concludes in encryption between the client and the server, allowing to prevent reading, editing and spoofing network packets what can lead to sad consequinces and even closure of the game portal. L2s-Guard is a unique and the only in its kind development of protecting software, includes many protection modules what analogues you cannot find in the Lineage 2 market. Successfuly deals with the most dengerous and newest cheat programms that are available to players worldwide for the purpose of exploiting and automating the game proccess, also it maximuum focused on the safety of your project.
Supported chornicles: Scions of Destiny, Interlude, Hellbound, Gracia Final, Gracia Epilogue, Freya, High Five, Awakining, Tauti, Glory Days, Lindvior, Ertheia, Infinite Odyssey, Underground, L2Classic 1.0 - 1.5.


The purpose of L2s-Guard?
- To protect the gameserver from unauthorized action, editing the network packet level and other possible actions that may lead to project failure.
- To protect the gameserver from bots, that with their assistance player can automize the game proccess. Bots are one of the most common types of simplification of the gameplay and hinder the smooth server growth.
- To protect the gameserver from clickers and other similar cheat programms that designed to automate the process of gameplay in different situations, concedes the honest game balance and the overall balance between players.
- Secondary purpose of L2s-Guard protection is the extension of the functions of the Lineage II client. L2-scripts studio is ready to implement any module which is required for the customer.
- Create a competition on the "Software protection for Lineage 2 servers" market, speed up the module development, increase the protection quality, remove completely the threat of cheating programms and lowering the cost, making it available for clients worldwide, indifference from region or native client language. We speak and understand any language the client speak!
Note: All clients module is "virus free", your players won't have any problems related to anti-virus warnings!
1. Mandatory Modules - basic protection actions to limit players using cheat programs and the common cheating modules.
2. Additional Paid Modules - Any additional features, which will work with the protection, we also accept third-party integration modules after their verification.
The list "Additional Paid Modules" is not limited and we accept any orders and wishes..
"Mandatory Modules" and free services:
Global update distribution network. To ensure fast and reliable updates.
A special method of traffic encryption. Using own technology the encryption does not affect the delay(ping) and ensures reliable data transmission server-to-client client-server.
Hardware-level integration to detect keystroke and mouse injections to prevent all clicker bots at the source instead of individually detecting them.
Hwid Module, which allow the administrator to restrict access to the game in part or full.
Easy installation server and client side. Help with installation - free.
Any login port is provided by client request for free.
Technical support working 15 hours a day and seven days a week from 9:00-00:00 local time (on weekends from 11:00-21:00/free schedule).
License and updates are issued for 12 months absolutely free!
Links: Modules description, Modules, Purchase, Terms, Contacts