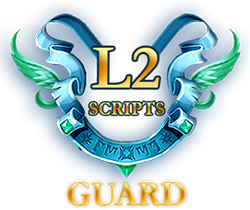 Lineage 2 Server Protection
L2s-Guard Official Website: L2s-Guard Protection
Development Updates:
1/9/17
Dear friends!

Our team has developed a great module for HF5 and Interlude (or bellow). Module will show damage, and other important combat messages on screen. We tried to make the most accurate analogy as its done on Classic and GOD chronicles.
This module is available ONLY for l2-sguard clients and the pricing is relatively low.
I was to highlight that this module isn't made as an interface and is covered by l2s-sguard protection distribute, means we guarantee nobody can steal it for you.
When purchasing this module, you can config the system as you like for the following parameters: font size, font color, any other custom message on screen (i.e mob dead, raid defeated etc.)
For more information please contact me in skype or PM.

Best regards and I wish everybody a successful work/study year!

------------------------

Posted August 15Dear friends,
Glad to announce a few important messages,

First we're launching our own SGCP (sguard control panel) in September, that will be described a bit later, for now I can say that this panel will include many useful information and 24/7 action service for our clients.

Second thing is related to the sguard module which is being finalized these days and released in just few days, it will include many improvements, related to performance, ease of access, error definitions and overall back-end boring stuff.

Stay tuned for news!
----------------------
Posted June 23Hello, for those who are still considering our l2sguard services, we have upgraded our statistics page to look nicer and with more information: Click HERE to see our new statistics page! (novaja statistika)
-------------
Posted June 25 (edited)News:
1. We are able to get HWID on AUTH.
2. Adrenalin update is on its way. (IL public update, other chronicles are ok)
3. Remade IL branch for 0% connections issues.

We keep up the great work for our clients, giving the best support you deserve!
----------------
Update (29.4) : fix integration of the anti-clicker for HF Chronicles (in other Chronicles all OK). The test was done, recognize all known software and before you added the identification of possible traversals.
Update (29.4): added new detection method for kernel mode and user mode in the techniques of hiding processes.
Update (1.5): Synchronize all updates with all Chronicles and added other changes.
Update (3.5): detailed study of the issue in the clicker HF/IL Chronicles for the future. Changed will change in the near future.
Update (3.5): changes in the work detect hidden processes, that would reduce to 0 false positives.
Update (7.5): Closed the last time, see, that clicked. A click of the mouse via the software is also disabled. Will test after 1 hour.
Update (8.5): Closed hiding the processes and the wines KHP evening will be on the test.
Update (8.5): Closed counterparts program Hyde tools.
Update (15.5): the Product is stable, working to improve the protection and technical customer support.
Update (31.5): have Closed, private version of the other bots had a special way konekta.
Update (31.5): Added statistics of users sguard and new users.
Update (09.6): Closed software (global) which works by reading the screen pixels features well-known farm bots on that basis.
Update (09.6): Expanded statistics on use in the countries (anything that may indicate a particular customer, just % for understanding that we operate worldwide and we is not enough ; our protection no ads)
Update (09.6): fixed problem with anti-virus avast & kaspersky are seen in engine.dll in the underground virus (because Alpaca, falls positive)
Update (09.6): Update sessions for a more friendly, loyal and stable operation of the HWID.
Update (09.6): Started on port IL Chronicles.
Update (09.6): Added module "launcher", start the game using l2.bin through the launcher and not directly through L2.EXE (DSETUP custom made specially for Your server) the cost is only 2,500 rubles.
Update (09.6): Added support for sub-models living and masks for local remote servers which have the problem with the Internet. - no extra charge.
Update (12.6): Fully modified method for the detection of adrenaline written a completely new module in the analysis software.
Update (15.6): the Upgrade was sent to all branches and licenses. This upgrade was imprisoned purely on the Adrenaline.
Update 30/6/16:
-Found weak spot of adrenaline, today was released the update, all old versions .DLL is not supported anymore.
-Globally fixed the problem with Spanish and Portuguese keyboards (for laptops special layouts)
-Started the development of Android API, in July, will show a prototype for admins.
Update 21/7/16:
-Successfully adapted Gracia final 83 and 87 of the protocols.
-Closed a few custom Walker and preloader according to customers.
Update 27/7:
-Covered 4бот and adrenaline on IL and GF (monitor daily changes)

Update for the month of August:
the Reason for stopping the development of the modules was to improve:
1. License server added convenient functions for the administration of servers and lots of different chips which have simplified our work of distribution of the security module and the administration of the licenses because they became too much for the original version.
2. Full port under the TCP Assembly from any manufacturer, and source (except адвекс64. They are for us to adapt not planning)
3. The update distribution system upgrades. Accelerated flow of updates that fixed the issue with the first runs (for low-speed networks), set DNS-failover.
4. For some administrators has developed a module entering the game without protection (taking into account that for all other protection works), this module is made for the security of the administration and the game servers and is included at the discretion of the administration.

-news
--We offer a 1 change UI for our clients per year for free (moving to another hosting/proxy connections/DDoS protection, etc.) ; are included in provisions in case of exceptions.
--We offer proxy support (PM & HS) for servers which want to defend against DDoS is cheap & reduce ping to certain regions.
--We offer offline protection (no need Internet connection) for certain, remote regions of Russia.
--We offer a free license to 7-14 (any Assembly and chronicle) to new server (which at the stage of pre-OBT or OBT in the middle or pre-start)
--We offer a free 7 day license for the servers you want to obkatat the real-time protection before migrating to a live server.

news for August:
1. Port for Artei and ei + test is finished and put on live servers.
2. The port IL + GF + Hellbound + Tauti + GD and newer PTS are finished and put on the live servers (not all Chronicles), do not change the prices for these services.
3. The proxy system for TCP servers done and debugged.
4. Started to develop adaptation protection on any server (Java) in 3 steps in 5 minutes. So as completely replacing the front-end and implement all the wishes of customers.
5. The adrenaline began to change bitcode place hooks + TV to give certain users (thank you adrenaline for help in covering crawls, if You are reading this then we are setting up the components, well done), which makes our work close to 90% easier and faster (about 10min).
6. For the month of August has not revealed any new software which bypasses our protection (except adrenaline
7. The company is actively working to improve our product and service, ask for EXT. advice-test servers and examples of our customers.
Thank you for your support!


Public plans:
1. To find new methods better, safer and more practical HWID.
2. Disable/Enable functions to be protected.
3. The configuration of the clicker under the order (the first work to make a Shiv to a parameter and not to pay attention to the clicker and some parameter to pay attention to the clicker)
4. To study the problem with the regularity of 1/100 does not include the first time L2.EXE.
5. Add copy&paste functionality.
6. Write decoding all error codes.
7. Pull on style for Windows error codes.
8. The configuration of the placing of the logo of the server to the client + online (which stretches from synchronizing with the server on. cheat)
9. Work on the license server.
10. Completely change the look and code of the server side, a lot of outdated, a lot of crutches to carry and make fresh.
11. Logging should break the log files for 24 hours, in the trail. 24 hours a new file (old archive)